Fans Workshop : Mariana Ten [23/01/15] (Paris - France)
Mariana is a Russian fire fan performer. She actually lives in Moscow.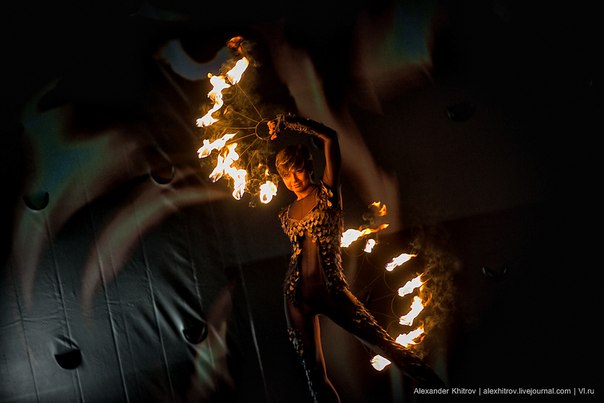 The first part is dedicated to spinning basis, don't worry it will be brief! :)

The second part is about tricks and flow.

- The weaves and combinations, and how to turn and turn back. Marianna will show you the common mistakes and how to fix it, and how to feel your flow in order to make every movements fluid and stylish.

- The flowers in different plans : from basis to advanced method with path around and variations. For this part, you need fans with a ring, of preference a palm ring.

- Geometrical and isolations tricks : some things more simple which don't need spinning skills to interesting ideas to challenge your expertise.

- Synchronisation : you will work with a partner but it 's not partner fans at all! ;) You'll borrow some pois tricks and test it with fans, particularly tunnels (when two spinners are one behind the other to make a figure.) See this video : Light at the End of the (Poi) Tunnel.
Mariana will end every theme with a short choreography, take again the movements in order to have, at the workshop end, a beautiful and complete combination of what you learn!
During the workshop, you can ask all the questions you have, even if the purpose is to handle specific fans, adapted to a dynamic and esthetic manipulation. Collective workshops take place in door, no fire, only technical skills opposite big mirrors. :D


Workshops : 2 hours, 5/6 persons by group.
Friday : 6pm - 8pm
Saturday : 1pm - 3pm / 4pm - 6pm
Tags: Paris, Artist, 2015, Stage, marianna ten